Fibrometer Range
FibroMeter™ is a family of blood tests used to evaluate the stage of liver fibrosis. FibroMeter tests are based on clinical data along with an analysis of biochemical markers, which presence in blood reflects the degree of fibrosis in the liver. A complete range of tests for non-invasive diagnosis of liver diseases. Each FibroMeter test has been specifically designed for the main specific etiologies, using determined sets of markers.
The FibroMeter range covers the 3 main causes of liver diseases
Viral hepatitis (Virus)
Non-Alcoholic Fatty Liver Disease (NAFLD)
Alcoholic Liver Disease (ALD)
Note: The scores of the FibroMeter™ range have been clinically validated and patented. Please refer to the user manual for the conditions of applicability of the tests.

---
What is the FibroMeter VCTE test?
FibroMeter VCTE assesses the stage of liver fibrosis in patients with chronic viral hepatitis (B, C) with or without HIV coinfection, and patients with metabolic steatosis.
---
What are the specific features
of FibroMeter VCTE?
FibroMeter VCTE combines the biological approach of blood scores with the physical approach provided by the ultrasonic VCTE technology of FibroScan® allowing liver stiffness measurement, to give a more accurate score, enhancing the diagnostic performance*.
---
What parameters are used
to calculate FibroMeter VCTE?
FibroMeter VCTE combines the FibroScan® liver stiffness measurement with the patient's clinical data (age, gender) with the results of 5 blood parameters
Platelets
Prothrombin ratio
ASAT
Alpha-2-macroglobulin
Gamma-GT
Liver stiffness
---
What results does FibroMeter VCTE provide?
Fibrosis score (FibroMeter) assesses the presence of fibrosis. The score is between 0 and 1, which represents the probability of the patient presenting a significant fibrosis (METAVIR stage F2 or higher). It is displayed with an associated classification, representing the patient's presumed METAVIR stage.
*Boursier et al. A new combination of blood test and FibroScan for accurate non-invasive diagnosis of liver fibrosis stages in chronic hepatitis C. Am. J. Gastro. 2011.106(7):1255-63. * Cales et al. Liver Int 2014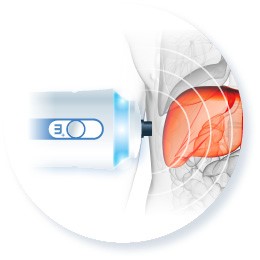 FibroMeter VCTE
Assesses the stage of liver fibrosis in patients with chronic viral hepatitis (B, C) with or without HIV coinfection, and patients with metabolic steatosis